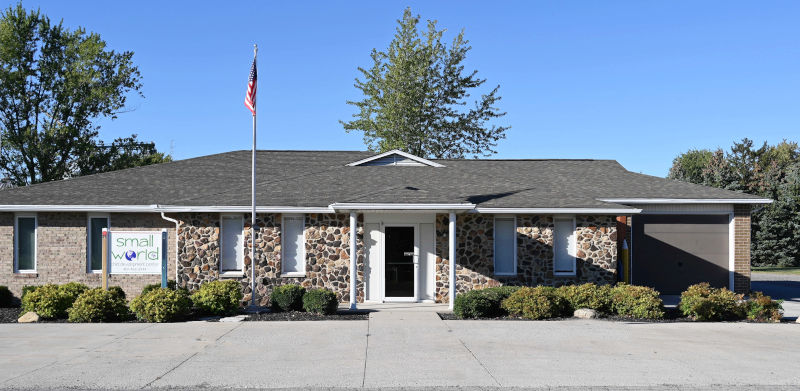 Preschool Sessions
Morning Sessions: M-F 8:00am - 11:00am
Afternoon Sessions: M-F 12:00pm - 2:50pm
Daycare Hours: M-F 6:00 am - 5:30pm
Day Care and Preschool
Our Mission is to "Prepare Children For Kindergarten." Your child's happiness is our primary goal and everyday is filled with fun learning experiences.
Small World offers both Day Care and Preschool services year-round. Our programs are designed for 5 different age groups:
6 Weeks to 18 months

18 months to Age 3

3 to 4 years old

4 to 5 years old

6 to 10 years old
Educational Material
Cognitive Development, Social & Emotional Development, Speech & Language, Fine Motor Skills

Cognitive Development
Math, Numbers, Measurements, Geometry, Sorting and Patterns, Science

Social & Emotional Development
Social Studies, History, Families, Geography, Address, Economics, Government, Following Rules, Solving Problems, Social Skills

Speech & Language Development
Language Arts, Phonemic Awareness, Letter & Word Recognition, Vocabulary, Understanding Stories, Writing Proces

Motor Skills
Coloring, Cutting, Stringing Beads, Zipping and Snapping, Running, Jumping, Hopping, Standing on one foot, Skipping, Galloping, Throwing and Catching
Before & After
School
Small World also offers a Before & After School Program with bus pick-up and drop-off. During the summer, the school-age children are refreshed and kept up on their reading and math skills, along with other subjects.
Small World provides age appropriate lessons on a daily basis. All lessons are based on The Preschool Standards that are set in the state of Ohio. We are licensed by ODJFS.